The Bouillouses lake and dam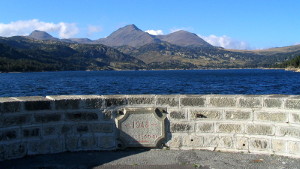 Close to natural areas of Cerdanya and Capcir in the Carlit mountain massif, the
Bouillouses lake
and its surroundings are classified as a natural site since 1977. The county council (
Conseil Général
), which manages the site since 1998, has designed in 1999 a global management project of the Bouillouses attendance to lead to a touristic exploitation which preserves the site natural character.
The
water dam
(alt. 2,017 m) has become the starting location of hikers to peaks Carlit and
Pérics
, the
Coumette d'Espagne
, the
Lanoux
, the Rock of
Aude
… This artificial water tank is 2,500 m long for a surface of 150 ha was erected at the beginning of the XXth century for regulating the flow of the
Têt
river and producing electricity. Its capacity was 13,000,000 m³.
In 1846, a first project is submitted to the county council but was not approved because of a disagreement between watering unions. The work took place between 1903 and 1909 when the turbines of
La Cassagne
power plant provides the necessary current to the first trains between
Villefranche-de-Conflent
and
Mont-Louis
. In 1946, the SNCF raises the dam to obtain a capacity of 17,000,000 m³.
A mountain chalet-refuge built in 1910 for dam workers, managed today by the French Alps Club, and an hotel erected in 1965 are available on the site.
Accommodation and catering on the Bouillouses site
Hotel Restaurant des Bones Hores: +33 468 04 24 22
Chalet refuge French Alpine Club: +33 468 04 93 88
Hotel Carlit: +33 468 04 22 23
Guarded refuge of Camporeils (on reservations): +33 682 12 99 22 December 1999
Back to the
natural reserve
presentation