The Roman hot spring-water spa baths of Dorres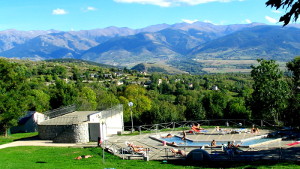 At the
Roman Baths of Dorres
, enjoy bathing
in the summer
and
in the winter
in the
outdoor pools
. The largest pool is complemented by an old public washtub which was carved in granite in 1841 by a stonemason who lived in the next-door house: Bonaventura Mitjaville. Two
bathtubs
shaped in a block of granite are attributed to the Romans but probably date from the Middle Ages. A south-facing hillside offers a magnificent view over the mountains.
The two outdoor pools are fed by the natural hot water source at 40 °C. This water is similar to the Sulphurous thermal water of the cure centre of
Les Escaldes
(pulmonology and respiratory rehabilitation, physical medicine) at the near village.
Roman Baths of Dorres are open all year from 9 :00 am to 7:30 pm, except during some days in November.
Entry fee in 2020: 5 €.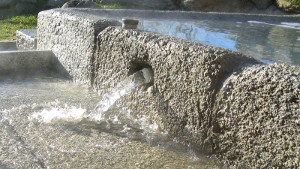 You will be able to reach the Roman Baths of
Dorres
after a few minutes walk from the
gîte Navarre
. The source provides a thermal water well known to relieve
skin disease
,
osteoarthritis
and
respiratory problems
.After hiking or after skiing, the athletes come to care their muscle aches which disappear while contemplating the mountain or listening to the birdsongs.
A few thousands of years ago, the site was already visited as evidenced by the
stone axes
found at Dorres. Did prehistoric man already enjoy a hot bath after the hunt?
In summer, you will also visit the
Granite Museum or the medieval church
. It tells the story of the stonecutters and shows photos of ancient times. One can also see tools for stone cutting and mining: splitters, hammers, wedges, crowbar, stubborn… The story of the stonecutters Dorres begins in the early 19th century with Étienne Marti (mentioned in 1802).We observe the economic expansion of the Cerdanya between 1870 and 1920. The Dorres granite was used to build many structures: Séjourné Bridge and the Gisclard Railway Bridge for the Yellow Train, Bouillouses dam, Puymorens tunnel, Lourdes Cathedral… To benefit from this influx of labour, the Dorres masons converted to the stonework.
Back to the
Gîte Navarre
homepage