Dorres, the village of the stonecutters in Cerdanya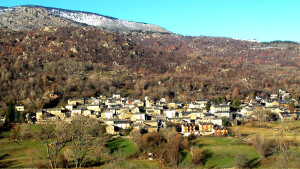 Famous for its
Roman Baths
,
Dorres
is a holiday resort where you can discover a preserved nature under a generous sun in any season. Menhirs, dolmens, orris testify that men occupied the place since prehistoric times. It is particularly pleasant to live in this superbly sheltered village on the south side of the mountain.
The
forest
is close to the village, mixing birches, conifers and alders. Easy footpaths to more difficult one are spoilt for choice..
. This so nicely complete a soothing rest.
The climate of
Cerdanya
provides an incomparable well-being and helps curing stress and allergies. Throughout the year, an exposure to sunshine promotes the fight against seasonal depression. In addition to the calm of the mountains enjoy an
outdoor bath
in the
sulphurous thermal water
with view over the mountains.
An inexhaustible choice of
activities
can be found in tourist offices concerning local culture, folklore and sports.
The village of
stonecutters
offers a museum which tells the story of a vanished profession which made his reputation at the beginning of the 20th century.
Activities
(inquire at the
tourist offices
).
Back to the
baths