Eyne and the Eyne valley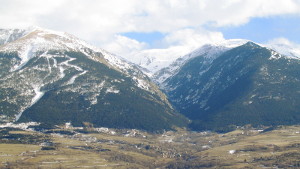 Once at Eyne, walk in the valley, which is one of the finest in the region; You can spend a day for this excursion. The village is set in very picturesque surroundings.
If you have a little time, be sure to visit the
church
; The carved wooden altar is glided with multiple gold leafs. It was restored in 1870. Right to the altar was a very crudely carved Virgin, very antique; It was stolen. Pay attention to the altar of the Rosary Mare de Déu del Remei (Our Lady of Remedy) for which the people of Eyne profess great veneration. As a matter of fact, there is numerous medicinal plants in the vicinity.
The Eyne Valley is famous in the medical world and among botanists. The entomologists also are familiar with the valley: there are indeed many rare species of insects.
First follow the Eyne water canal up to a large basin where the waters are divided into three groups heading to Llo, to Saillagouse and to Eyne; then walk along the river, go through a small forest, and fields of rhododendrons, boulders and large tracts of grass in the middle of which are flowers of all kinds and all colors during the summer. Three hours of walking later, always on the left bank of the river, you will arrive at the Pla de la Bagoude after a final crest. Following is the steep decline of the Coullade that leads to
the pass of Núria
(altitude 2,680 m).
To reach Núria you must hike down the almost sheer trail leading to the sanctuary, in about an hour and a half.From the pass of Núria begin many excursions following the crests. But this requires a serious training since the paths are mostly more than 2,700 m above sea level.
(Translated form
Cerdagne Capcir
- J. Ferrer – éd.Roussillon France).
Back to the
natural reserve
presentation